Catalog Software
Make digital catalogs with ePageCreator catalog software.
ePageCreator will take in your PDF or images files and process them and give you a page flipping version of it.
The catalogs that are created are viewable on multilpe devices not just PC and Mac

ePageCreator is a catalog software that takes in your PDF files and converts it to a digital catalog that you can upload and host on your own website.
Once you import your PDF into ePageCreator you can customize it by adding in links, buttons, audio, and video clips. You can even change up the overall look by applying a theme or manually making one yourself.
When you are done you can finalize it by publishing it and uploading it onto your website and share it with clients and customers.
As technology continues to advance more and more traditional publications are getting turned into digital forms. ePageCreator is here to help with that process, by taking the PDF forms of these publications it can convert and and still give the feel of reading a physical book with the page flipping effect that gets added.
One of the major advantage of having a digital version of your catalog is the ability to make it interactive. Normally if you see a link or image in a traditional catalog you will need to go onto your computer and type in the URL and find the item to find out more. In the digital version you can attach a link directly to the image so readers can click on it and be brought to the page right away.
Testimonial:

When we decided to go digital, we were faced with a real dilemma. We could not find one single program that was capable of handling a book of this size (350MB). They would all freeze and to be honest, we were frustrated because we had naturally assumed that it would not be hard to turn the book into an e-book. I am not sure how I found epagecreator but thank god I did. From the very first time we published the book with your software, it has been quite amazing. Not only does it look pretty but the technology you employ is far superior to your competitors. How do I know? Because I tried them all and only epagecreator passed what was in actual fact the most stringent of tests. We have received so many compliments, not just about the content and layout but the software we are using. We are extremely proud of our book and the way it is presented. At conferences and trade shows, all we have to do is set the book to auto run and it sells itself. People love the fact that they can zoom in and out, adjust the zoom, create bookmarks, highlight text, use the powerful search engine and find page spreads easily with the thumbnail imagery. This book has surpassed our wildest expectations and while much of that has to do with the thousands of hours we spent putting it together, the final package would not be possible without epagecreator. Thanks for being an integral part of our project.

- Geoffrey Dominy

Find more testimonials here
How to Start:
Download
You can click on the Free Trial button to download ePageCreator
Start it up
After installation you can register it if you have a license or proceed to the trial version
Choose a Source
Select the PDF or Image File that you wish to use for this publication
Customize
Add in links, buttons, audio, video, background images, ads etc...
Publish
Publish your finished flipbook and upload it onto your website to share
Sample: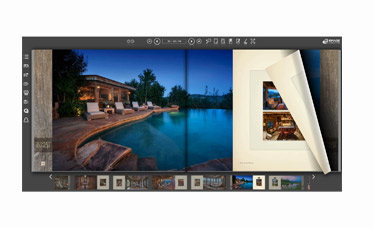 Click the brochure above to see a sample of a flipbook created using ePageCreator.
Sharing:
You can share your finished catalog easily with the help of some of the sharing features located in ePageCreator. You can click a button to sent a qucik email to some or post the link to the catalog directly onto your own social media page of your choosing.