Catalog Maker
Change things up by turning your PDF files into interactive catalogs using ePageCreator
ePageCreator adds the page flipping effect to each page so it looks like you are reading a physical catalog.
The catalogs are viewable on PC and Mac as well as mobile devices like smartphones and tablets.

ePageCreator is a catalog maker that uses your PDF files and converts it into a digital catalog with pageflipping effects. The catalogs that you create with ePageCreator can be viewed on all device including PC, Mac, iPad, iPhone, Android phone/tablet and Windows phone/tablet. It uses flash for PC and Mac viewing and html5 for mobile devices.

ePageCreator also creates .epub and .mobi for Kindle and other eReaders.
ePageCreator is super user friendly, no programming is required to produce high quality catalogs with the catalog maker. All you need to do is import a PDF and customize it by adding in different features. Then you can publish it and upload onto your own website. You can have a flipbook create in 5 mins.
Spice things up by applying themes to the catalogs that you can create. ePageCreator has built in themes that you can choose and apply. If you cannot find the one that works for your current publication then you can edit and make your own. You can change the background and even edit each button to get the look just right.
Testimonial:
We First let me say that I love the software. I have been able to give e-learning e-books to my students following a week course at Maison de Ste Claire (Learning French). It took me a while to figure out how to use the software but it is in fact relatively easy and friendly. I love the possibilities it offers: videos, audio, pdf and power point presentations style. Perhaps, the only thing which is still missing (From an e-learning perspective) would be a quiz section (multiple choices questionnaires, drag and drop, etc.) which we could add say at the bottom of a page or the end of a book. I do think that this would be a big bonus for the software as many teachers around the world would love to be able to create their own e-book for their students and a quiz section would be very attractive. But a part from that, I think it is a great software, well priced if we compare with competitors...
- Gilles Berger
Find more testimonials here
Why use ePageCreator:
Responsiveness
The flipbooks loads up really quickly and there is a very smooth transition when you flip from page to page.
User friendly
You do not need to have any technical knowledge at all to use ePageCreator, it is a very simple point and click interface.
Customizable
There are many different features that you can add to the flipbook from Links, Videos, Pictures, Background Images, Custom toolbars.
Quick
It can take a quick as 5 mins to produce a flipbook with ePageCreator.
Sample: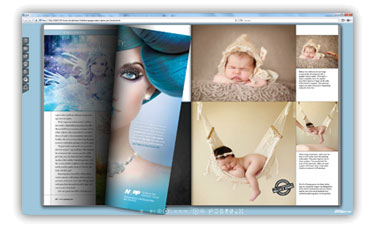 Click the brochure above to see a sample of a flipbook created using ePageCreator.
Sharing:
You can share your finished catalog easily with the help of some of the sharing features located in ePageCreator. You can click a button to sent a qucik email to some or post the link to the catalog directly onto your own social media page of your choosing.