Alive CD Ripper
Extract audio CD to MP3, WAV, WMA and OGG files.
ALIVE CD Ripper - a powerful and easy to use cd ripper tool. it can convert your favorite CD tracks to MP3, WAV, WMA, OGG files! It also allows you to Edit ID3 tag of MP3 file, Query CD Information from CDDB. MP3 and OGG Encoder supports CBR, VBR, and quality/speed balance
Features of CD Ripper: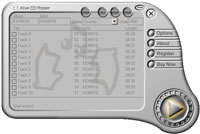 1) Extract audio CD to MP3, WAV, WMA, OGG files on-the-fly.
2) Best Audio Codecs support.
3) Freedb Enabled with our cd ripper.
4) Alive CD Ripper supports Local CD Database.
5) Multiple CD drivers support.
6) ID3V1 and ID3V2 support. It allows you to specify the ID3 tag of MP3, WAV files.
7) Output Winamp Playlist (M3U file).
8) Lifetime updates.
- Alive CD Ripper allows you to complete following conversion:
CD to WAV
CD to MP3
CD to WMA
CD to OGG
CD to M3U
History
12/18/02, Alive CD Ripper 1.0 released
First public release
Support WAV, MP3, WMA, OGG Formats.
5/19/03,Alive CD Ripper 1.2.3.7 released
Fixed bugs
Impove interface
6/24/03,Alive CD Ripper 1.2.5.6 released
Fixed bugs
8/28/03,Alive CD Ripper 1.2.7.6 released
12/15/03,Alive CD Ripper 1.3.1.8 released